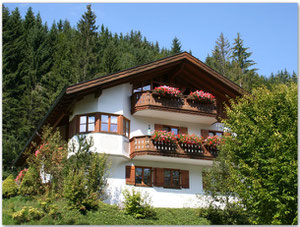 Our house with 6 holiday apartments is located at the southern end of Klais on the rise of a meadow at the edge of the forest in the direction of Elmau, off the B2 highway.
Opposite is the former location of the Scharnitz Kloster and one can see the path of the old Römerstraße (Roman Road).
It is the ideal starting point for hiking and bicycle tours to the surrounding lakes for a swim, as well as for more demanding mountain tours in the Wetterstein region and Karwendel mountain range.
During the winter, it is only several minutes to the cross-country ski run.
As the house is just a 5-minute walk to the Klais train station, even without a car the somewhat more distant destinations are reachable during every season of the year, for instance Garmisch-Partenkirchen with its Hausberg, the Wank, the Alpspitz region and the Zugspitze, as well as our neighbouring country Austria with Seefeld and its surrounding area.
Even Munich, with all it offers in terms of culture, is so convenient to get to.
Our Holiday Apartements
Our roomy, well-attended, bright and friendly Holiday Flats with large bathrooms are furnished with modern Vogelauer furniture and wooden flooring and carpeting. Each apartment has its own balcony or garden terrace as well as radio/TV and its own telephone. Apartement details
Naturally your dog is welcome to come as well. We charge a fee of €8 per day.
Towels and bedding will be supplied . For a minimal fee, there is the possibility of using the washing machine and dryer as well as a steam iron.
On arrival date the apartments are available after approx. 4 pm and should please be cleared by 10 am on the date of departure. Special arrangements are possible!
Vacation taxes:
€ 2,60 per adult per day (from the age of 16)
€ 1,75 per child per day (ages 11-16)
Low-season Reductions:
Between the beginning of January to the beginning of February and the middle of March to the middle of June as well as after the middle of October we offer a reduction of 10% for a minimum stay of 10 nights. Further we have special prices for groups in the low season subject to individual arrangements.